12-13 January 2023 @ Faculty of Physics, University of Warsaw
Welcome to the QuICHE meeting in January 2023
We are happy to welcome you in Warsaw for the meeting of the QuantERA project QuICHE. Here you will find information on the program, the venue and contact information
Schedule
Thursday – 12.01.2023
At 10.15 am Benjamin Brecht will give a departmental seminar on Time-multiplexed photonic quantum systems in room 0.06 (open to the public).
Time
Event
Room
11:15
Welcome
B014
11:30
QKD, entanglement and incompatibility with temporal modes
Giovanni Chesi
University of Pavia
B014
12:15
Fixing the finite detection time loophole in time-frequency quantum key distribution setups
Nikolai Wyderka, Federico Grasselli
Heinrich Heine University Düsseldorf
B014
13:00
Lunch
B014
14:00
Breakout 1/2
TF-bin QKD / …
PWN
15:00
Temporal imaging and temporal ghost imaging with entangled photons
Shivang Srivastava, Dmitri Horoshko
University of Lille
B014
15:45
Detection of time-bin superpositions based on the temporal Talbot effect
Maciej Ogrodnik
Towards electro-optic manipulation and detection of time-frequency entanglement
Filip Sośnicki
University of Warsaw
B014
16:30
Coffee break
17:00
Breakout 3/4
TF-bin QKD / Temporal imaging experiments
PWN
18:00
End of the day
19:30
Dinner at Znajomi Znajomych Restaurant
Friday – 13.01.2023
Time
Event
Room
8:45
Coffee
9:00
High-dimensional temporal mode decoding with an mQPG
Benjamin Brecht
University of Paderborn
B014
9:45
Temporal bin to mode conversion using a quantum memory
Steven Sagona
Imperial College London
B014
10:30
Coffee break
11:00
Breakout 5/6 or Lab Tours
TF-bin QKD / Temporal modes / Temporal mode conversion / …
PWN
13:00
Lunch
B014
14:00
End
We invite you for further lab tours / discussions on Friday afternoon & evening after the formal end of the meeting.
Venue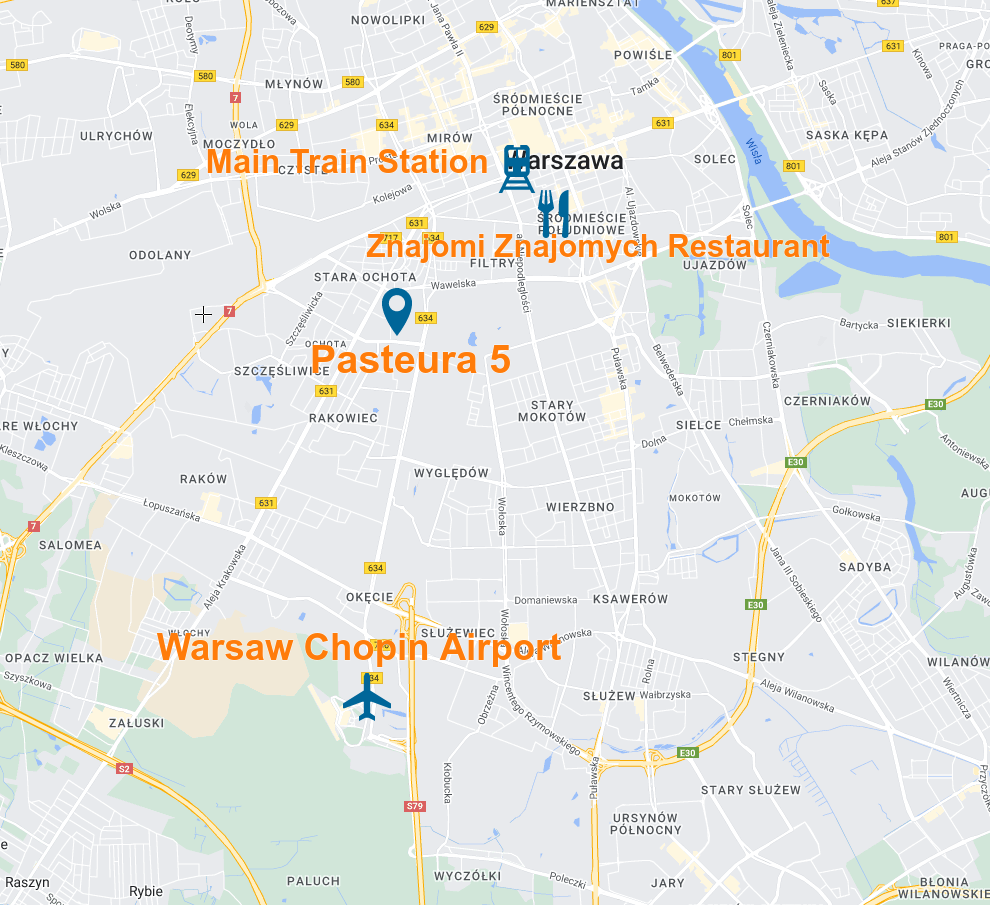 Contact
Organized by the Faculty of Physics, University of Warsaw, ul. Pasteura 5, 02-097 Warszawa, Poland.
Contact: Michał Karpiński (mkarp@fuw.edu.pl); Marzena Niedźwiadek (marzena.niedzwiadek@fuw.edu.pl)
Registration
Registration is closed.